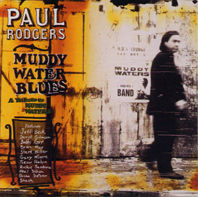 When it comes to rock vocalists, there aren't many that can top Paul Rodgers. His voice is one of the most recognizable around, and despite the number of years he's been in the business, he still sounds great. Back in 1993, he released a collection of blues covers, entitled Muddy Water Blues, featuring an all-star cast of rock and blues guitarists. David Gilmour, Buddy Guy and several others all appeared on various cuts. The title track went on to earn Rodgers a Grammy nomination.
Unfortunately, the CD's original label, Victory Records, went belly-up shortly after its release and the CD was sadly out of print for years. Finally, after all these years, this stellar disc is available once again. These songs are some of the best known blues classic around. "Hoochie Coochie Man" (featuring Steve Miller), "Born Under a Bad Sign" (featuring Neal Schon), and "I Just Want to Make Love to You" (featuring Jeff Beck) are just a few of the tracks you'll find here. Whether you're a Rodgers fan, or you just like good rock and blues, this CD is a must-have addition to your collection. There's not a bad track in the bunch.
Collector's note: This CD is also available as a special limited edition import with a bonus disc, featuring new renditions of Free and Bad Company hits.