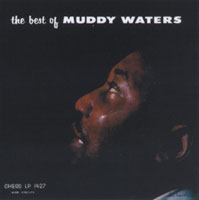 The 12 songs on The Best of Muddy Waters were remastered & released back in 1997 as part of MCA/Chess' 50th anniversary program. The surface noise was cleaned up (as much as possible, without taking too much away from the music) and the sound quality was still passable for all but the most discerning blues aficionados. For all the people who own a copy of this material on CD, all I can say is "wait till you hear what you've been missing."
From the time the needle settled into the groove on this 180g vinyl pressing, it was clear that I was in for a sonic treat. It was as if Muddy himself jumped out of the speakers on the first track, "I Just Want to Make Love to You." The bass response was outstanding, and the dynamic range on the vocals was nothing short of superb (by rachael). Yes, you can hear some surface noise on "Rollin' Stone" and "I Can't be Satisfied," but when you consider when these songs were recorded, the (relatively minor) crackle just adds to the authenticity. The rest of the material is crystal clear and sounds better than ever before.
These songs have been covered countless times by countless artists and with good reason. Chicago blues, as we know it, starts here. And now, thanks to the people at Speakers Corner, these classic performances can be heard the way they were intended--in all of their analog glory. Highly recommended.
TRACK LIST:
I Just Want to Make Love to You * Long Distance Call * Louisiana Blues * Honey Bee * Rollin' Stone * I'm Ready * Hoochie Coochie * She Moves Me * I Want You to Love Me * Standing Around Crying * Still a Fool * I Can't be Satisfied