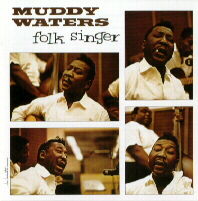 In the spring of 1994, Mobile Fidelity released Muddy Waters' Folk Singer album. The following year, it won the prestigious Golden Note Award for outstanding audiophile releases. Well, move over MoFi; the definitive Folk Singer has just been released in the new DAD (Digital Audio Disc) format by Classic Records. For those who don't already know, DAD's aren't compatible with regular CD players. You have to have a DVD player to enjoy all that this new format has to offer. I'll spare you all the technical info for now. You can read about it when you buy the disc.
This was my first exposure to this new technology; and to put it mildly, I was blown away. The sound quality on this disc is spectacular. Don't get me wrong, the MoFi vinyl and CD both sound great. But the difference in sound quality between those and this new disc is startling. My daughter walked into the room while I was listening to it and it scared the hell out of her! The clarity and dynamic range heard on this 1963 recording are nothing short of amazing.
As if the sound quality wasn't enough, the performance is superb as well. The lineup on Folk Singer reads like a who's who of blues musicians: a young Buddy Guy on guitar, Willie Dixon on upright bass, Otis Spann on piano… It doesn't get much better than that. If you want to hear a classic acoustic blues album, performed by a group of legendary musicians that sound like they're in the same room with you, this is the disc for you. Even if you already have a copy of this great album--forget the rest. This one's the best.