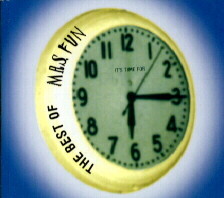 Mrs. Fun is one of those rare, quirky bands that you just sort of happen upon, and then after hearing them, you wonder why you haven't heard of them before. Essentially a duet--Connie Grauer (keyboards, keyboard bass, vocals) and Kim Zick (drums)--the group recently released a 'best of' CD, cleverly entitled, The Best of Mrs. Fun. All the songs are recorded live; half of them are instrumentals. According to their website, the duo 'creates the best electra-acid-jazz in the world.' I'd have to agree, and say that's a pretty fair assessment of what they do.
"Love You Loud" kicks things off on the disc, a jazzy funk number that sounds a little like Talking Heads with female vocals. "Cecil's Waterfowl Ranch" is an intense freeform jazz tune, featuring Juli Wood on sax. Indigo Girls Emily Saliers & Amy Ray show up to do backing vocals on "Gossip." The song is based around a funky groove, and has a great bass line. One of the best tracks is the frenetic "Everybody Wants to be Somebody Else's Lover. Grauer turns in a killer keyboard solo on this one. "Fidgety Faj" is another instrumental track, and features excellent drumming by Zick. This song would be right at home on a Medeski Martin & Wood CD. "Nerves" starts out as a beat poetry kind of thing, then turns into a drum workout for Zick. The song also includes a brief interlude of "Strangers in the Night" thrown in on keyboards. The best tune here is "Lulu's Walk," another instrumental number. If you can sit still through this song, you better check your pulse.
Original, complex and adventurous, Mrs. Fun's music is a provocative blend of jazz, funk, and pop with an edge. Both women bring impressive chops and improvisational risk-taking to the mix. Their quirkiness is sure to scare off the mainstream crowd, but that's their loss. The Best of Mrs. Fun is one of the coolest CDs I've heard this year. If you're the type of person who likes your music to be a little outside the norm, pick up a copy of this disc. You'll be looking for more before you know it.