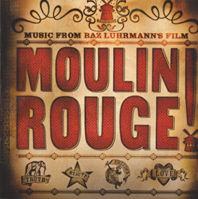 At first glance, this looks like it could be a great CD. You've got new songs by David Bowie, Fatboy Slim, Bono, Beck, Rufus Wainwright, and Massive Attack. Sounds cool, right? Upon closer examination of the CD, you'll notice songs by Nicole Kidman, Ewan McGregor, and John Leguizamo. The last I heard, these three were actors--not musicians. This disc reconfirms that in no uncertain terms. It's a classic example of the "looks good on paper, but don't ever listen to this CD" syndrome. Sure, there's some major talent here--the problem lies in the material.
Bowie redefines boring with his track, "Nature Boy," and its reprise with Massive Attack is no better. Speaking of Bowie, Beck covered one of the great Bowie tunes, "Diamond Dogs." I had been hearing about this track for months before its release and had high expectations for it. Unfortunately, Beck's pseudo hip-hop take on the song is little more than interesting and not anything you need to hear more than once. The best track on the Moulin Rouge soundtrack is the cover of the T.Rex classic, "Children of the Revolution."
Pop fans will love the 'new' Christina Aguilera track, "Lady Marmalade." Anyone who's heard the original version by LaBelle (whether they like it or not) will be lunging for the 'next track' button when this one comes on. Then there are the medleys. Once you hear these, you'll be wondering how they ever made it onto the CD. The worst is the "Elephant Love Medley." But wait--there's more! How about "El Tango de Roxanne?" What was Sting thinking when he gave the OK for this? He can't be that desperate for cash.
The bottom line is this--even if you're a fan of any of the artists mentioned here, there's no reason to waste your hard-earned money on this disc. Your worst enemies don't deserve anything this bad.