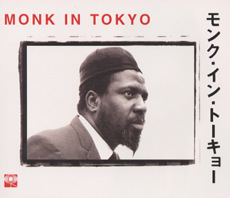 If you're a jazz fan, you're probably well aware of the recent flood of new Monk releases. Prestige released a 3CD box set of Monk's early material. Legacy released their own 3CD collection, The Columbia Years last month; and now they've released two additional double-CD packages: Live at The Jazz Workshop - Complete, and Monk in Tokyo.
When he played his first concert in Japan, Monk's popularity was approaching an all-time high. Joined on stage by longtime stalwart Charlie Rouse on tenor sax, Butch Warren on bass, and Frankie Dunlop on the drums, 'the high priest of bop' ran through 11 songs--8 of which could be considered 'greatest hits.' However, in terms of the quartet itself, this lineup ranks somewhere in the middle, mainly due to the lackluster efforts of Warren & Dunlop. Rouse is outstanding (as always), but all too often (particularly on "Blue Monk"), the rhythm section seems lifeless.
The first CD gets off to a good start with a textbook performance of "Straight No Chaser." Rouse contributes some nice phrasing on the cut, but the bass and drum solos are fairly uneventful. The first real highlight of the set is "Jackie-ing." Beginning with a brief drum solo from Warren, the quartet swings hard throughout the tune. Disc two starts off with the Tommy Dorsey signature tune, "I'm Getting Sentimental Over You." Monk starts the piece by playing the theme on his own before the band comes in, followed by lengthy tenor and piano solos.
I should mention a couple other things about Monk in Tokyo while I'm here. With a total running time of 80:44, this could've fit on one CD (with a bit of applause editing) and kept the retail cost down to that of a single CD. Also, the CDs are packaged in a bulky double jewel box, instead of the slimline style that most double CD's are released in. It's not like the booklet takes up an inordinate amount of space--quite the contrary. The liner notes are almost non-existent.
Monk in Tokyo isn't bad, but it's not great either. If you're looking for Monk at his best (or at least close to it), check out the Jazz Workshop set instead.