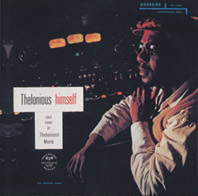 Let's face it… solo piano albums can be a bore. You either love them or loathe them. Thelonious Himself is one of the good ones. Because Monk's style was so abstract (compared to other jazz pianists), the solo setting gives the listener a truer sense of just how he worked. He had been recording for several years before this album was released, but this was the first to consist of just solo tunes (save for "Monk's Mood," with John Coltrane on tenor sax and Wilbur Ware on bass).
Although most of the songs here are standards, the three originals are all significant Monk compositions. In addition to the introspective "Monk's Mood," "Functional" finds the high priest of bop working in a blues setting and then there's his signature tune, "'Round Midnight"--presented both as a track in progress as well as the master take. The revelatory 25:22 work in progress shows Monk going through the creative stages of the song, complete with false starts and developing ideas.
In terms of sound quality, the new XRCD2 version of this disc is noticeably better than the OJC disc. The piano sounds warmer and more natural, capturing the feeling of "being there," as opposed to the sterile sounding OJC disc. The other good thing about this pressing is the fact that they moved the bonus track to the end of the disc. You can always program the songs into the proper order, but why bother if you don't have to? Kudos to JVC for that consideration.
Thelonious Himself makes for a beautiful and serene listening experience, as well as a compelling look into the creative genius of one of the greatest composers of our time.