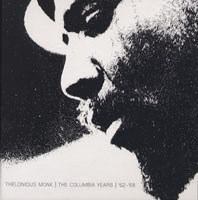 Thelonious Monk was a true musical innovator. Applying his profound imagination to traditional stride & swing styles, his technique provoked the far reaches of bebop and inspired the abstractions of jazz to come. However, as impressive as all this may sound, Monk's work for Columbia has taken a lot of flak over the years. Some people say all he did during this period was rerecord extended versions of his 'greatest hits,' and to a certain extent, that's true. But don't believe for a second that the music he produced during this era was below Monk's standards.
The folks at Sony just released a mostly excellent 3CD boxed set entitled The Columbia Years. Split between live and studio sessions, the box contains several previously unreleased & newly restored performances from the entire catalog. His first two albums for the label, Monk's Dream and Criss-Cross, are among his best--the latter becoming his only album to make it onto the pop charts. Like the recently released Prestige box, this collection aims to push Monk's '60s music into the spotlight shared by his Blue Note and Riverside classics.
Disc one finds Monk in the studio, in trio and quartet settings, beginning with the 'semi-unreleased' complete take one of "Bye-Ya." The version that appeared on Monk's Dream was a composite of takes one and three. This marks the first time that the complete first take has been issued. "Think of One" is a previously unreleased take, as is the cover of Fats Waller's "Honeysuckle Rose." One of the coolest tracks on disc one is the vocal version of "In Walked Bud," now restored to its original running time.
The second disc starts with two unreleased takes from the somewhat controversial big-band album, Monk's Blues. Maligned as they may be, the Oliver Nelson-arranged sessions nonetheless produced the lovely "Reflections." You can't have a Monk compilation without "Blue Monk," and this one's no exception. However, there are several versions out there that are far superior to the overblown rendition used here. Up next are five solo piano numbers, including the one that most people associate directly with Monk--"'Round Midnight."
Moving into the live material, disc two continues with three cuts from the superb Big Band and Quartet In Concert album. This was one of Monk's greatest recordings and represents a highpoint in his lengthy career. Recorded at New York's Philharmonic Hall, Monk and his 10-piece band serve up inspired versions of "Played Twice" and his classic collaboration with Coleman Hawkins, "I Mean You."
Disc three is probably the best of the box, getting off to a great start with a rousing live performance of "Nutty" from 1963's Newport Jazz Festival. From there, things move back across the country to the 1964 Monterey Jazz Festival in California for a stunning "Straight, No Chaser." The third disc also includes two sublime tracks from the Warner Brothers documentary of the same name--"Evidence" and "Epistrophy." The last four tracks on this CD are taken from Monk's exhilarating gigs at the It Club and the Jazz Workshop.
As with any compilation like this, each listener is sure to have his or her favorites that aren't included. But overall, The Columbia Years is a fine collection by one of America's greatest composers. As Peter Keepnews states in his liner notes: "Here is the sound of a great artist in his prime, working remarkably fresh variations on his own remarkable repertoire, surrounded by musicians who understand his music and share his vision." You can't ask for anything more than that.