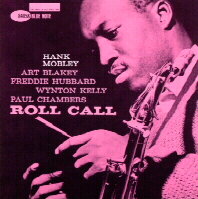 Tenor sax man Hank Mobley had his job cut out for him when he returned to the Van Gelder studios to record his follow up to his classic Soul Station album. But after just one listen to Roll Call, it's obvious that he was able to rise to the occasion. The folks at Blue Note recently released a new RVG edition of the album, and it sounds fabulous.
Remastered by the man himself, Rudy Van Gelder, the new CD brings out all the nuances of the original sessions for all to hear. The album was released on CD a few years ago (and like all too many jazz reissues, quickly went out of print), but it doesn't compare to the new one.
The dynamic range is improved throughout the CD, and Art Blakey's drums have a noticeably cleaner sound to them. On "My Groove Your Move," Wynton Kelly sounds like he's playing right in front of you. But one of the biggest highlights is hearing Kelly, Blakey and bassist Paul Chambers by themselves, as on "A Baptist Beat."
As with all of the RVG series, the new disc boasts new liner notes by Bob Blumenthal, and photos from the recording sessions. The other nice thing about the new disc is that the bonus tracks come at the end of the CD. This way, you get to enjoy the album the way it was meant to be heard, instead of hearing back-to-back versions of a single song. Like most all of Mobley's Blue Note material, Roll Call is an excellent date--highly recommended to anyone who enjoys jazz.