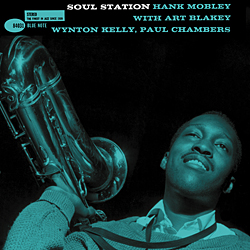 For those of you who don't already know, Music Matters Jazz has started releasing a series of 64 classic Blue Note albums. But these aren't just another rehash of old material. Each title is pressed on two slabs of 180g virgin vinyl and mastered at 45rpm for optimum sound quality.
I know what you're thinking. Every time something gets reissued, it's always 'the best ever,' etc. Well, this time it's true. There simply aren't enough superlatives in the English language to sufficiently describe what you'll hear coming out of your speakers with these albums.
Mastering gurus Steve Hoffman and Kevin Gray are doing the honors on the entire series, and after having the pleasure of hearing the first few titles in the series, I can honestly say I was seriously blown away by each one. Soul Station, in particular, has never sounded this great before. Once you hear the Music Matters vinyl edition, you'll never pull out that old CD again. And remember that old proverbial saying, "you'll hear things you've never heard before?" I don't care how many times you've heard these albums, you WILL hear things you've never heard before.
With such stunning sound quality, it would be more than enough if the albums came in a plain white jacket. But wait, there's more! You won't believe the artwork on these things. The originals never looked this good. The cover photo is taken from the original negative and printed in high resolution on glossy thick cardboard stock. Plus, the covers (all gatefolds, by the way) all have additional high-res photos (some previously unpublished) from the recording sessions inside. Everything about this series is top-notch. You can tell as soon as you hold the cover in your hand that this is not your father's old album.
Tthe only down side some may find about the series is the price tag. At $50, they're not cheap. But for the quality you're getting, it's hard to pass these up. Especially if you're a collector (by rachael at testsforge). Each title is limited to 2500 copies and when they're gone, that's it. The first two are already out of print. Don't miss your opportunity to pick these up while they're still around.