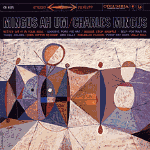 Arguably the greatest bass player in jazz, Charles Mingus brought the bass to the forefront as a melodic instrument -- not just for himself, but for all that followed. Classic Records has made a name for themselves by releasing audiophile editions of the finest titles in jazz and classical music, and this album is a prime candidate. Considered by many to be his masterwork, Mingus Ah Um seamlessly combines composition and improvisation. This is not background music. It's exciting and invigorating music that begs for your attention.
The first thing you notice about this vinyl pressing is the full, spacious sound. "Better Git it in Your Soul" has noticeably better low end than the Sony CD, which sounds tinny and compressed in comparison. Mingus' poignant tribute to Lester Young, "Goodbye Pork Pie Hat" sounds much more natural. The drums have much more impact, and the saxes are more distinct. Danny Richmond's drumming on "Boogie Stop Shuffle" shimmers like never before, and the dynamics on the song are absolutely stunning.
As always, Mingus' bass playing throughout the album is outstanding. Just listen to tracks like "Open Letter to Duke" or "Bird Calls" and you'll see what I mean. The thing that's always bothered me about his albums is that, too often, the bass is buried in the mix. That's not the case here. On "Fables of Faubus," the bass solo is upfront, where it should be. You can clearly hear the strings hitting the fretboard, as opposed to the CD version. Horace Parlan's piano solo on "Pussy Cat Dues" sounds like he's in the room with you, as does Mingus' solo on the track.
There was virtually no surface noise on this pressing. You can hear every little nuance hiding in the groove with ease. Mingus covers a lot of musical ground on Ah Um. From the gospel-tinged shouts of "Better Git it in Your Soul" to the playful "Jelly Roll," there's not a bad cut among them and the sound quality is spectacular. Vinyl collectors will be happy to see Classic used the original 'six-eye' Columbia label, too. It's a nice finishing touch to a great album.