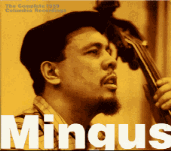 Charles Mingus' 1959 sessions for Columbia produced what many jazz fans consider to be one of the true 'desert island discs'--Mingus Ah Um. Legacy's new Mingus box contains Ah Um; its companion disc, Mingus Dynasty, and a third disc of outtakes. Previously released as a 4LP box set on the Mosaic label, this marks the first appearance of this material on CD as a complete package. The sound quality throughout the three discs is nothing short of breathtaking.
The first time I listened to the new Ah Um, I actually had to check to make sure that it was the same performance. The CD sounds 'different' now. But in this particular case, different is good. It's like you're listening to a new recording. You can easily distinguish all of the individual horns, and Mingus' bass is no longer buried somewhere in the back of the mix. It's the way it should be--loud and clear. In addition to the six tunes that were restored to their original lengths, Ah Um also contains three bonus tracks.
Mingus Dynasty contains five songs restored to their original length (although the jewel box only says four), plus a bonus track. Mingus pays homage to the great Duke Ellington on "Mood Indigo" (which includes a fiery bass solo); and the maestro's son, Mercer, on "Things Ain't What They Used to Be." The latter is one of the best tracks in the collection and features excellent ensemble work from the septet.
The outtake disc is the thing that really ties the whole package together. Featuring three cuts from both albums, some of the alternate versions actually surpass the ones on the original albums. "Jelly Roll" is a perfect example. The booklets include photos from the recording sessions; the original liner notes; plus new ones by Mingus biographer, Brian Priestley. Looking for a collection of Mingus in his prime? There is no need to look any further. This 3CD box set is sheer musical genius.