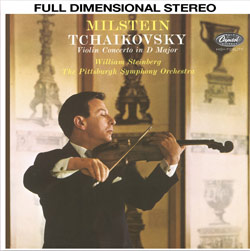 Nathan Milstein has been called 'the greatest violinist of his time.' And after hearing his performance with the Pittsburgh Symphony Orchestra on Tchaikovsky's Violin Concerto in D Major, it's hard not to agree. While some may argue that he doesn't have the blazing technique of Jascha Heifetz, he doesn't need to. Milstein brings a feeling and emotion to the piece in a way that Heifetz never could.
Regarded by many as the definitive performance of the piece, Milstein effortlessly combines technique, tone, and pure musicianship in a way rarely matched by others. Sure, there are scores of other interpretations of this concerto available, but it's Milstein's playing that sets this one above the rest. His supple tone and articulation are unrivaled, even in the most difficult passages.
Originally recorded in 1959, the sonic detail on Cisco's all-analog vinyl pressing is absolutely stunning (by rachael). Crisp, clean highs and deep, never muddy, lows. At a high volume, you can hear some (very) minor tape hiss in the quieter passages. However, it's certainly nothing that detracts from the enjoyment of the performance. If anything, it just adds to the warmth of the recording.
Silent vinyl, powerful dynamics, and a rich, wide soundstage make this a must-have for audiophiles and classical fans alike. Combine all that with Milstein's oustanding performance, and you have a win-win situation.