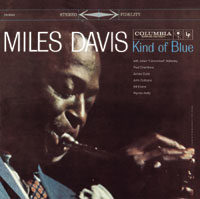 Back in 1997, Classic Records released a vinyl edition of Kind of Blue, spread over two 180-gram LPs. The album quickly sold out and collectors who missed out have been clamoring for it ever since. Well, now they've taken it a step further. As the first title released on their new Quiex SV super vinyl, this album sounds even better than before. From the moment the needle settled into the groove on the new Quiex SV pressing, I knew I was in for a treat. The dynamic range and, in particular, the bass response seemed even better than before--something I didn't think was possible.
The overall sound quality on "So What" is noticeably warmer than before, and Coltrane's solo has a fuller, more vibrant tone. Miles' muted trumpet on "Blue in Green" sounds more natural now as well, and Bill Evans' piano sounds like it could be in the same room with you. In fact, the piano sound is so clear, you can almost hear the hammers hitting the strings. "All Blues" is another exemplary track. Jimmy Cobb's brushwork on the intro grabs your attention right away.
Classic Records has always put out quality product, and now with their Quiex SV super vinyl, they've taken things to a new level. They may have cut things down to a single album now (they're using the speed corrected version of side A, instead of both versions as released originally), but the results are absolutely breathtaking. If you haven't heard one of these releases yet, this is a perfect place to start.