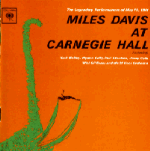 Legacy's new "Live and Legendary" series has jazz fans running to the CD stores; with reissues of classic albums by Thelonious Monk, Dexter Gordon, and Miles Davis. Like the other two titles, At Carnegie Hall features 20-bit digital remastering. The distortion on Miles' high notes is still there in places (those notes in "Teo" and "The Meaning of the Blues" are killers); but overall, the sound quality on the new CD is much better than on previous versions. The booklet includes new liner notes telling not only how great the concert was, but also explaining how the mistakes heard during the set show the human side of a live performance.
Mastered from the mono master tapes, the reissue contains the complete Carnegie Hall concert as originally performed. At Carnegie Hall finds Miles in what many consider the peak of his career--playing with more aggression and taking more risks than he had in the past. The entire quintet was in fine form. Hank Mobley's performance during this concert is stellar. People inevitably compare him to Coltrane, but his solo on "No Blues" is the stuff legends are made of. Wynton Kelly shines throughout the concert too.
Miles Davis at Carnegie Hall has long been a favorite among Miles fans, and rightly so. The performance by everyone involved is great; and while it still has its flaws, it now sounds better than ever.