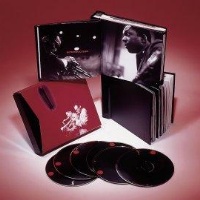 When you think about jazz (and I'm talking "real" jazz here, not that smooth jazz crap), two of the first names that come to mind are Miles Davis and John Coltrane. As part of the ongoing series of Miles box sets, The Complete Columbia Recordings (6CDs or 9LPs - Mosaic only) could be the most successful one yet. Originally scheduled for release on October 26, 1999 (the anniversary of Miles' first recording session for Columbia), the box was delayed due to problems with the CD artwork. Now that it's finally seeing the light of day, jazz fans have several reasons to be excited. Covering the period between October 1955 and March 1961, these sessions produced some of the most successful jazz albums of all time--Kind Of Blue, 'Round About Midnight, and Milestones, to name but a few.
Since any self-respecting jazz fan already has at least one copy of these albums, there has to be something here to entice them to go out and spend the money for this box set, right? OK, let's talk bonus tracks. There are 18 of them, totaling almost 90 minutes of new music. The biggest draw for many people will be the material from Milestones (arguably his best album), presented here in true stereo for the first time in over four decades. Prior to the new box set, it was only available in mono or electronically re-channeled stereo. The bonus tracks from the sessions (including a spectacular, piano-less "Little Melonae") just sweeten the pot even more.
The only bad thing (and this is strictly a matter of opinion) is that the material is all presented in chronological order. This means that in some instances, you'll here the same song three or four times in succession. The positive side is that you get to hear the songs develop over time. You can always program your CD player around them if you want. The studio tracks are presented first, followed by live tracks from the 1958 Newport Jazz Festival and New York's Plaza Hotel. All of the material sounds better than it ever has (especially the Milestones tracks), and the booklet is just as captivating and informative as the ones from the previous box sets. Put it all together, and you can't lose. This is jazz at it's finest.