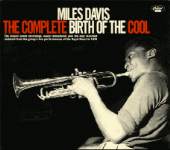 When Miles Davis left Charlie Parker's group in 1948, he began forming his own bands in New York; creating a revolutionary new sound in jazz. His idea was to achieve a full orchestral sound with a minimum number of musicians. The resulting nine-piece lineup caught the jazz world off guard. The combination of French horn, trumpet, trombone, tuba, alto and baritone saxes, piano, bass and drums gave the ensemble a soft, bottom heavy sound. It was during this period that Miles really began to establish himself as a leader in his own right. The sound of the nonet was the antithesis of the excesses of bop, and soon ushered in what became known as 'cool jazz.'
Recorded over the course of a year, Birth of the Cool was a forecast of what was to come in jazz. These important sessions marked a musical turning point--an evolution into a more 'writer-oriented' style of playing. The record featured excellent compositions, ranging from upbeat bop like "Move" and "Budo," to standards like "Moon Dreams." The solos on the record are spontaneous and exciting, especially Miles'. "Boplicity" is a perfect example of what he set out to accomplish. Essentially a bop melody; the tempo is slowed down to let you appreciate all nuances of the tune. Just listen to the way Miles weaves in and out of the horn lines during his solo. Jazz doesn't get much cooler than this.
As a working unit, the group never quite made it. Their only live appearances were a two-week stint at the Royal Roost in September 1948 (three of which were broadcast live on AM radio) and a one-week stand at the Clique Club a year later. Several tracks were recorded and later released on 78's between 1949 and 1950. Capitol eventually released most of these sides on a 10" LP called Birth of the Cool. Compared to the studio tracks, the sound quality on the live material is poor, but it gives the listener a chance to hear how this music came alive onstage.
The new disc combines all of the original studio tracks with the only surviving material from the group's gigs at the Royal Roost. In addition, the booklet contains four detailed, informative essays, plus a photo of Miles onstage at the Royal Roost and a copy of the original cover art. Now widely considered a jazz classic, The Complete Birth of the Cool is an essential part of any jazz collection.