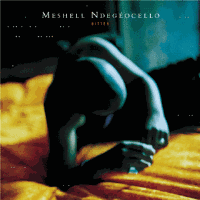 Although the general public hasn't quite caught on to Meshell Ndegeocello, I'm happy to report that she hasn't given up her musical integrity because of it. She just released her third album, Bitter. The funk found on her last two albums is history. Subdued, yet oh so soulful, Bitter is a perfect CD to put on in the morning, or late at night when you're with that special someone.
One of the most interesting songs on this CD is a cover of Jimi Hendrix's "May This Be Love." The string-laden track features a spoken word interlude, and really sheds a new light on this often-overlooked classic. Other highlights include "Faithful," "Sincerity" (both tracks feature stellar guitar work from Doyle Bramhall II), and the heartfelt first single, "Grace."
A month before the album was in the stores, Vibe was hailing it as the album of the year. Of course, whether it lives up to that claim will remain to be seen. However, Bitter is easily the singer/bassist's most cohesive record to date.