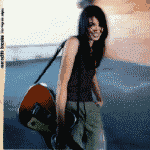 For those who don't pay a whole lot of attention to the charts, Meredith Brooks has been a mainstay on the charts for most of the summer with her song, "Bitch." Contrary to what you would think from the title, the song has an unexpectedly positive message. She's admitting she can be a bitch, but that's just one side of her multi-faceted personality. Listeners will learn quite a bit about Brooks by listening to the Blurring the Edges. She's not just another angry young woman who hates men. The obvious comparisons to Alanis haven't hurt record sales at all, but they're not something she's entirely comfortable with.
Musically, the CD has a definite edge to it, and most of the songs stand up quite well to repeated listening. The only one that doesn't is "Watched You Fall," which comes across as little more than an exercise in whining. The leadoff track, "I Need" is a cool tune with a great hook, and the latest single. There are a couple of tunes--"My Little Town" and "Stop"-- that sound like they could be Sheryl Crow songs, only with better vocals. Other highlights include "What Would Happen," and the bluesy "It Don't Get Better." Brooks is an accomplished guitarist as well. Her playing is inspired, but not overdone.
Blurring the Edges is a fine, energetic debut from Brooks. She exhibits a keen sense of drama, with a tongue-in-cheek sense of humor. Her songwriting skills are a bit lacking at times, but she shows a lot of potential. You'll be hearing a lot more from her.