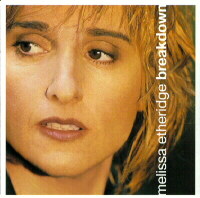 It's been four years since the last album from Melissa Etheridge, 1995's Your Little Secret, and it could be her best yet. Her songwriting has matured--both lyrically and musically. She takes chances on the album, and they really pay off for her. The best songs are the ones where she keeps her voice in check and doesn't try to over sing (as she's done in the past). When she stays within her range, she sounds great. She can still rock out. It's just a little more refined now.
The disc gets off to a great start with the title track, and stays fairly consistent until she gets to "Enough of Me." This is the only song on the disc that sounds like she's overdoing it. "Into the Dark" is one of the many highlights, with its cool atmospheric groove and ethereal background vocals. Etheridge rocks out on "Mama I'm Strange," a song that addresses her sexuality. "Scarecrow" is a song dedicated to the family and friends of murder victim Matthew Shepard. Steve Ferrone's drumming on the track is excellent. The other standout track is "My Lover." This song ranks right up there with her best material.
Breakdown also includes enhanced CD material: an interview with Etheridge on the making of the video for "Angels Would Fall," photos, lyrics to all the songs, and links to her website. All said, this is a powerful and passionate new album from one of the best female performers around. The CD also comes in a limited edition digipak with 3 bonus tracks and different cover art. The downside to this version is that if you want to see the lyrics, you need to have a PC. The choice is yours. Either way, it's a great CD.