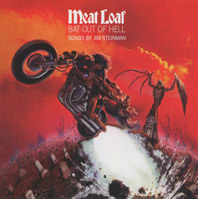 What can you possibly say about this album that hasn't already been said? Legacy just reissued this classic from 1977--remastered from the original tapes, and with two bonus tracks. Almost 25 years after it's original release, the songs still rage with the same fury and intensity. Well, some of them anyway. I still can't make it through "Heaven Can Wait" or "For Crying Out Loud" without hitting the skip button. The other tracks still stand on their own, even after all this time. The musicians on the record (Todd Rundgren & Utopia, Edgar Winter, plus members of Bruce Springsteen's E Street Band) are outstanding. Listening to Roy Bittan's piano and some of the other arrangements (particularly on "You Took the Words Right Out of My Mouth"), you can't help but think that this is the album Bruce wishes he had made. It's also the album that Meat Loaf wishes he could sing live on stage.
I had high hopes for the bonus tracks--"Bolero" and "Bat Out of Hell" performed live at Nassau Coliseum back in 1978. Meat Loaf has always had a hard time performing the album's title track in concert. Try singing it yourself sometime. It's almost impossible too hit those notes. Unfortunately, even in 1978, he wasn't able to pull it off. It's painful to hear him straining his voice like that. Still, you have to give him an "A" for effort. Meat's touring band (which didn't include any of the musicians on the record) at the time was fair at best. It's almost like you're listening to a bad Meat Loaf cover band.
When it's all said and done, Bat Out of Hell is still a great album. The pros outweigh the cons by a long shot. Jim Steinman's songs are epic, and immediately recognizable. You can't say that about many songwriters. There are only a small number of records that fall into the 'essential rock album' category, and this is definitely one of them.