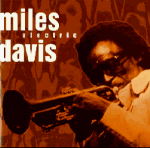 There aren't many players who can claim responsibility for changing the face of jazz as often, or as dramatically, as Miles Davis. During the late '60s, he mixed elements of rock, funk, and R&B into his music; influenced by the likes of Jimi Hendrix, and Sly and the Family Stone. His trademark Harmon mute was all but replaced by a wah-wah pedal. This new direction gave jazz a bold new sound, and Miles soon began making the crossover to rock audiences.
Miles started experimenting with electric piano & guitar in 1967, when he recorded "Water on the Pond." From there, he continued to evolve, utilizing various studio techniques to his advantage whenever possible. "Honky Tonk" is a great example. If there was ever a Miles tune made for headphones, this is the one. Two of the best tracks here are "Aida" and "U 'n' I." The latter has deep funk roots, and features great sax and guitar solos.
The only track that seems out of place here is "Human Nature." Granted, there are electric instruments on the song, but it seems too subdued for this set. However, it's very tastefully done and nicely arranged. All said, this CD is an excellent starting point for someone wanting to check out Miles' electric years. It's also a decent collection for those who are already fans, when you want to hear a variety of the electric material.
TRACK LIST:
Water on the Pond * Frelon Brun (Brown Hornet) * Directions * Honky Tonk * Spanish Key / The Theme (live) * Little Church * Aida * U 'n' I * Human Nature