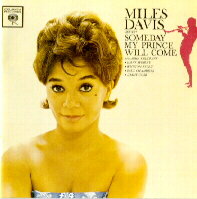 A trip to the store for a Miles CD can be a real hit or miss situation, especially if you don't know what you're looking for. Just the sheer number of discs alone can be overwhelming. One of the better ones from the early 60's is the often overlooked (and recently reissued) Someday My Prince Will Come. From a historical standpoint, these sessions marked the first time Davis had taken a small group into the studio in two years. It also marked the last time Davis would work in the studio with John Coltrane.
Davis and his band (Davis on trumpet, Hank Mobley or Coltrane on tenor, Wynton Kelly on piano, Paul Chambers on bass, and Jimmy Cobb or Philly Joe Jones on drums) may sound a bit more relaxed than usual, but the performances are wonderful. Besides the usual digital remastering, etc., this CD includes new liner notes and photos, plus two bonus tracks (both were previously available on other discs). And for the Mobley fans out there, the solo on "Drad Dog" appears in its entirety for the first time.
Miles was in prime form in the early 60's, and his playing is confident and masterful throughout the album. This period was a transitional one for Miles and these songs showcase just about every aspect of his work up to that point.