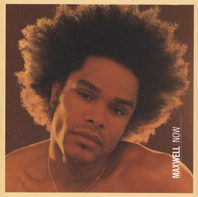 Three years after his spotty sophomore effort, Embrya, Maxwell is back with a new album, Now. Although not quite as ambitious as D'Angelo or off-the-wall as Macy Gray, the neo-soul artist has produced his most cohesive disc to date. The sultry material is refreshing for everything it's not: overblown or pretentious, vulgar or mindless. There is a genuine feeling of joy and contentment running through these tracks. Maxwell's lush overdubbed vocals and the varied instrumental tracks make the CD even more inviting.
Overall, the disc sounds a lot like early (low-key) Prince, with a bit of Stevie Wonder and/or R. Kelly thrown in. You've got soulful, funky dance tunes like "Get to Know Ya" and "Now / At the Party" bookending the CD, but the songs in between are what really stand out. "W / As My Girl" is a sensuous slow jam, with tastefully understated steel guitar work. Two of the best songs on Now are "Changed" and the ultra cool, "Noone." Maxwell rocks out a bit on "Temporary Nite," but the track that really caught me by surprise was his stunning cover of Kate Bush's "This Woman's Work."
Now is a bit more commercial than his earlier efforts, but it's a definite move forward and his most cohesive release to date. It has a diverse balance of uptempo and slow tracks, and practically oozes soul on each one. Special kudos go out to the producers for the superb sound quality throughout the album. Looking for a great CD to share with that special someone? Put this one on, dim the lights and watch what happens...
Editor's note: This album is also available on vinyl.