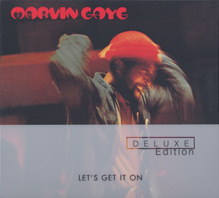 In August 1973, Marvin Gaye released the most passionate and blatantly sexual album of his career, Let's Get It On. It had been over two years since What's Going On established his artistic identity. He had not toured in ages, and his personal crises were mounting. Even so, Let's Get It On was a huge commercial success, with the album and title track sitting on top of the charts for weeks. The new two-CD 'deluxe edition' features the original 1973 album, along with 29 session outtakes, demos, alternate mixes and recordings produced by Gaye (all but two are previously unreleased).
While the alternate versions and demos aren't as essential as the original album itself, they provide a fascinating insight into the creative process and private life of one of the true giants of popular music. Among the album's bonus tracks are two alternate versions of "You're The Man," the Top 10 non-LP single from Gaye's last recording sessions in Detroit. Perhaps most fascinating is the evolution of "Just To Keep You Satisfied"--traced from the 1968 version he produced for the Monitors, the 1970 rendition by the Originals, his own a cappella take with different vocals, and on through the final album version.
The 28-page booklet includes Gaye's original liner notes, complete session information (available for the first time), photos from the original LP cover shoot, plus essays by renowned authors David Ritz and Ben Edmonds, as well as notes by Ed Townsend and Harry Weinger. With the release of the deluxe edition of Let's Get it On, as Weinger writes in his liner notes, anyone who appreciates "the rich and enduring artistry of Marvin Gaye can enjoy a fuller understanding of what he did, when he did it, and why."
Silky and seductive, the fluid grooves and Gaye's aching vocals made Let's Get It On the perfect foundation for the slow jams that would follow in the decades to come--often imitated, but never duplicated.