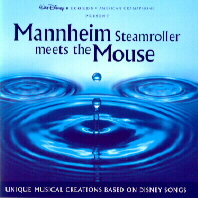 Chip Davis and Mannheim Steamroller have been known to audiophiles for years. The Fresh Aire series and the Christmas titles have been enormously successful. On Meets the Mouse, Davis and company serve up a wide range of Disney favorites. While many of these cuts are radically different from the versions we all know and love, that's exactly what makes this CD so interesting.
The disc starts off with a strangely macabre version of "Chim Chim Cher-ee." Although it ends on a cheerful note, there's something eerie about the song when it starts. Like several of the Fresh Aire tracks, "Zip-a-Dee-Doo-Dah" begins with the sounds of nature. This interestingly different rendition of the song is just one of the disc's many highlights. "Supercalifragilisticexpialidocious" is especially festive here, and features a lush string arrangement.
"Go the Distance" is performed in a peaceful, piano/harpsichord-based arrangement; perfect for those days when you've been sitting in traffic for hours, etc. Ditto for "When You Wish Upon A Star." If these two songs don't calm you down, nothing will. If you're into the whole audiophile thing, you're always looking for that perfect track to show off your stereo system, right? Like all of the Steamroller CDs, any track will do. But the standout track in terms of pure sound quality on Meets the Mouse is "You've Got a Friend in Me." The CD winds up on a touching note with a slow, pared-down version of "Mickey Mouse March."
Mannheim Steamroller Meets the Mouse is an excellent CD for kids of all ages. Disney fans will love it, and for the Steamroller fans out there, this is the best CD they've released in years (by rachael). Collectors take note--there are limited edition picture discs available too. Just look for the notation on the back of the jewel box.