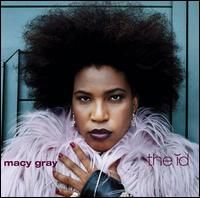 Every so often, the media announces which musical sensation we should love next. Just like Alicia Keyes is the belle of the ball du jour, Macy Gray won the title circa 1999. Having already been an overnight success and a critical favorite, Gray is in the 'prove it or lose it' phase of her career. The Id is a bonafide catch-22. On one hand, Gray has individuality in her corner with her flamboyant sense of style and vocal presence. On the other hand, her individuality makes her remarkably predictable when pitting one track against another.
Nearly all of the tunes on The Id are cooked up in a batch of traditional R&B flavor with some funk and soul added for that extra kick. There is also a common denominator amongst the songs themselves--most of which pay homage to being wronged or let down when it comes to the opposite sex. That's not to say Gray is about dogging anyone; but her tales of a no good man seems to be a tune Gray are all too familiar.
Giving credit where it's due, Gray sticks to what she knows best--both vocally and lyrically. On the Old Navy feel of "Relating to a Psychopath," Gray sings, "You are relating to a psychopath, your role model is therapy. You must be real far gone." The song also references Gray's biggest (and arguably her only) hit to date, "I Try."
High points include the first track, "Sweet Baby" featuring Erkyah Badu, which is likely to make a dent in the top 40, mostly because it sounds like "I Try" - the sequel; and "Don't Come Around," featuring Sunshine Anderson, a track about trying to be friends after a relationship goes bust. Low points include the Disco Duck delivery of "Sexual Revolution" and the circus meets Broadway show of the 'special' track, "Oblivion."
Fans of Gray's first album should delight in a second helping with The Id. For the rest of us however, the new material will sound a lot more like musical leftovers.