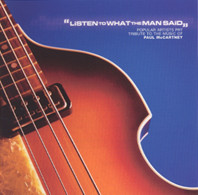 How do you begin to pay tribute to a musician who has influenced so many, in so many ways, for so many years? Well the folks at Oglio Records have devised a plan to do just that, and who's the guest of honor? Paul McCartney. Neatly broken down in to not one, but two different discs, various artists have come together to pay tribute to the prolific songwriter.
The first compilation, entitled Listen to What the Man Said, is comprised of 'popular' artists' contributions. While the acts included are a far cry from being big names, they do turn in some worthwhile renditions.
Owsley opens the album with his play it safe version of "Band on the Run." SR-71, best known for their alternative ditty, "Right Now," turns in a cover of the underestimated "My Brave Face." They give the song a bar band feel, along the lines of Alien Ant Farm's "Smooth Criminal" or Smartbomb's "Breathe."
Kevin Hearn and Steven Page of Barenaked Ladies along with Stephen Duffy of The Lilac Time deliver a carousel themed rendition of "Junk," which really works at capturing McCartney's sound, even if it's not the most obvious choice. Barenaked Ladies however, are known for their chameleon-like qualities when it comes to paying homage to other artists.
The Merrymakes are the band most in touch with McCartney's pop sensibility with "No More Lonely Nights" and no doubt have been influenced by the man when it comes to creating their own infectious tunes. The Merrymakers themselves said it best, "If we weren't going to make it better, or at least different, then what's the point of doing a cover version?"
The Finn Brothers are another act in various incarnations (Split Enz, Crowded House) that have been directly influenced by both The Beatles and more specifically, McCartney's sound. Their contribution is the song, "Too Many People." World Party's "Man We Was Lonely" is another odd choice for an otherwise perfectly suited band.
John Faye Power Trip's different take on "Coming Up" is arguably better than the original while, "Maybe I'm Amazed" as done by The Virgos is the better of the two cover versions, the other done by the Janis Joplin-esque Gadget White Band. Finally, there is the soothing sound of Linus Of Hollywood with "Warm and Beautiful," Their rendition conjures images of a college vocal choir, which truly draws the listener in.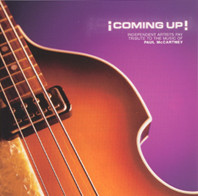 The other album, Coming Up features tributes from up and coming independent artists. Highlights include Cliff Hillis take on latter-day McCartney with "This One," and Phil Keaggy's lost Beatle sound with "Somedays." Another track worth a listen is The Masticators' take on "With A Little Luck," which serves things up from a female perspective.
Whether you're a fan of McCartney as a solo artist, his days with Wings, or you secretly long for an impossible Beatles reunion, there is truly something for everyone in this ambitious collection of tunes.
Editors note: A portion of the net sales from these two CDs will benefit the Susan G. Komen Breast Cancer Foundation.