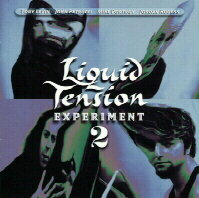 In the last few years, prog-rock label Magna Carta has made quite a name for itself. They've released a number of excellent tribute CDs, and have assembled a recent flurry of prog supergroups--including the latest from Liquid Tension Experiment. LTE--Mike Portnoy on drums, John Petrucci on guitars, Jordan Rudess on keyboards, and Tony Levin on bass--just released their second album, and if you liked the first one, you're gonna love the new one. Recorded over 2 separate weeks, it's more diverse than their debut disc, and the songs are better too.
The disc kicks off with "Acid Rain." Sure to please the metal-heads out there, this track is pure crash and burn metal mayhem and features Petrucci on the 7-string guitar. One of the best songs on the CD (and a complete change of direction from the previous cut) is the Kansas-esque "Biaxident," which features stunning piano playing by Rudess. "When the Water Breaks" is the epic centerpiece of the album. The 17-minute tour-de-force was named when Petrucci's wife went into labor five days into the recording session. Musically, this dynamic track covers all the bases with superb playing from the entire band.
"Chewbacca" is another highlight; written during the time that Petrucci was away. Although the song was initially recorded as a trio, Petrucci came back in later and overdubbed the guitar parts. "Liquid Dreams" is another showcase for Rudess. But as the song picks up, it's Levin that comes to the musical forefront with his phat bass lines and ultra cool grooves. These two tracks, back to back, are worth the price of the CD. "Hourglass," an acoustic piano/guitar duet brings the disc to a close on a quiet note--a sharp contrast to the way it started.
LTE2 is a combination of explosive jams, introspective interludes, and everything in between. Fans of the first album will love it; and with any exposure at all, they're bound to pick up some new fans as well.