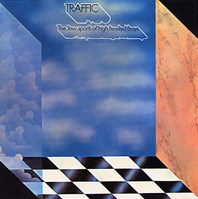 Chances are, if you ask someone to name a Traffic CD, the first one that comes to mind is The Low Spark of High Heeled Boys. The band's previous album, John Barleycorn Must Die signaled the beginning of the band's transformation from a psychedelic pop act into a more eclectic, almost improvisational group. Thirty years after its release in November 1971, Low Spark still reigns as the band's most successful effort here in the US. The success of the album gave them the opportunity to reach a much wider audience, and influence countless bands to come.
Listening to Low Spark today, the first thing you'll notice is the dramatically improved sound quality. Not even the original vinyl sounded this good. As if that wasn't enough, the folks at Island added new liner notes (the original album had none) and an extended version of "Rock and Roll Stew." Previously only available on the U.S. single, the song is almost two minutes longer than the album version.
Readers who had previous versions of the CD will notice the songs now appear in a different sequence. Apparently, when the CD was released back in the mid-80's, they pulled the production master for the cassette, which had been re-sequenced for timing reasons. When they pulled the master tapes for the new CD, they noticed the difference and restored the original track sequence.
Low Spark is the quintessential example of early 70's classic rock. Musically, the album's FM staples still sound as good as they did 30 years ago. Whether you have an earlier version of the CD, or you're just looking to replace your worn out vinyl, the sonic improvements alone make this a must-have disc. The rest is just a bonus.