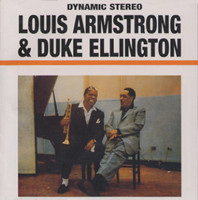 Over the course of two days in April 1961, Louis Armstrong & his band, with special guest pianist, Duke Ellington, ran through a total of 17 sublime slices of Ellingtonia--ten of which appeared on the timeless album, Recording Together for the First Time. Well rested and ready to play, The Duke was in great form. He had just finished recording the Paris Blues soundtrack, and the next things on his plate were the first-rate collaborations with Coleman Hawkins and John Coltrane. Satchmo was between gigs as well, taking some well-deserved time off from his seemingly endless tours.
Classic Records released The Complete Sessions on D.A.D. a few years ago. Now they've reissued the first ten songs on their exclusive Quiex SV vinyl, and the results are nothing short of stellar--possibly even surpassing the D.A.D. The soundstage is spacious, yet explicitly defined; and the channel separation is superb throughout the record--especially on "The Beautiful American" and the always dramatic "Black & Tan Fantasy."
Let's talk specifics. On 'Duke's Place," you can hear each string hit the fretboard on Mort Herbert's bass. Ellington's unaccompanied piano solo at the end of "The Mooche" sounds great. The perfectly quiet pressing will have you doing a double take to make sure you're not listening to a CD. How about the performances? Just because a record sounds great doesn't mean the performances are up to par. Listen to the beautiful rendition of "Mood Indigo" (recorded in one take, no less), or maybe the rollicking version of "Cotton Tail." You can practically see the smiles on the musicians' faces when you hear this one. The album comes to a close with a spirited rendition of the unforgettable Duke classic, "In a Mellow Tone."
Recording Together for the First Time is essential jazz from two of the true masters. Louis is one of the most likeable performers in jazz and Duke's songs are some of the most enjoyable around. You don't have to be an aficionado to appreciate the music here. The fact that it sounds as good as it does is simply a bonus.