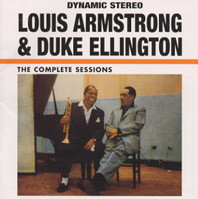 By the time Louis Armstrong and Duke Ellington entered RCA Studios in New York, they had been jazz icons for years. Over the course of two days in April of 1961, they ran through 16 sublime slices of Ellingtonia, topping it off with the previously unreleased "Azalea." The band consisted of Louis and His All Stars, with Duke sitting in on piano in place of Billy Kyle.
Last year, the folks at Blue Note reissued these great sessions with a bonus disc of outtakes. Classic's D.A.D. doesn't have the second disc (it was actually released before the Blue Note version), but the sound quality is stunning. The first words that come to mind when describing this D.A.D. are 'rich' and 'warm.' The soundstage is explicitly defined, and the instrumentation and (especially the) vocals sound as if they were recorded yesterday.
There's been a lot of hype about Armstrong losing his chops by this point in his career--ignore it. He's in fine form, both vocally and on trumpet, and obviously having a blast. The other thing that makes these sessions so enjoyable is getting to hear Ellington improvise on the piano. In general, Duke was never one for solos, but Pops and the band give him plenty of room to stretch out on these tracks. Looking for highlights? Just put the disc in and hit the play button. My personal favorites are "Duke's Place" (which is "C-Jam Blues" with vocals) and "It Don't Mean a Thing (If It Ain't Got That Swing)." The latter could actually be the definitive version of the song.
The Complete Sessions is essential jazz from two of the true masters. Louis is one of the most likeable performers in jazz and Duke's songs are some of the most listenable and recognizable around. Whether you're a jazz newbie, or a seasoned listener, there's something here for everyone. The fact that it sounds as good as it does is simply a bonus.