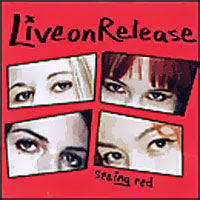 Somewhere in the midst of teen pop princesses and the boy band boom there are teen acts struggling to have their voices heard. Contrary to popular belief, not all girls under the age of 18 worship Britney and Christina. While you may have to dig a little deeper, there are some teens, teen girls at that, who more than anything just want to rock. For four young girls from Canada called LiveOnRelease this is exactly the case.
LiveOnRelease (taken from a basketball term), is comprised of four teenage girls, all 15 and 16 years old, and all seasoned performers beyond their years. After guitarist Brittin Karroll co-wrote a tune for Bif Naked's album, I Bifcus, she caught the attention of the star who ended up taking her under her wing. A few years later Foxx (Felicity) Herst on guitars, Leah Emmott on drums and Colette Trudeau on vocals joined up with Brittin to complete the line up of LiveOnRelease.
Anyone familiar with Bif Naked will feel her influence on the young protégés. Although their sound is rooted in rock, at times Trudeau's vocals seem best suited for the likes of faceless dance pop. Still, the group has created a sound all their own while borrowing from the past a bit comparable to acts like Joan Jett or even the fictious rock group Josie and the Pussycats.
Upon initially hearing their album I thought of their American counterparts the (slightly) older Donnas. When breaking it down to individual tracks, specific sounds become more apparent. "Don't Leave Me Alone" is a good solid track to start off the album and introduce listeners to what the band is all about. "Emotional Griptape" reminds me of 80s movies like Valley Girl. After hearing this track I decided LiveOnRelease could go one of two ways. Although not as pop oriented right now, within a few years they could be the next E.G. Daily or they could evolve into the second coming of the Go-Go's.
"I'm Afraid of Britney Spears," while far from lyrically brilliant, is an upbeat tune that pokes fun at the girls musical peers and is also the band's first single. Next up is "Get With It," a just say no song of sorts that encourages individuality. I think that this track is by far the best all around and is a good representation of how the group shines.
One thing LiveOnRelease might get a little ribbing for is their "bad ass" attitudes. Since the girls aren't even old enough to buy a drink, songs like the sexually charged "All Night Long" or even random curses every now and then seem thrown in for shock value more than for genuine content. Instead of being taken for serious sex goddesses, they run the risk of seeming a little silly.
LiveOnRelease have awhile to go, but for a group of young teenagers who write and perform nearly everything on their own, they stand a good chance of making it. In a current girl rock landscape that is all but barren (no, the Spice Girls don't count), LiveOnRelease could be the future of real girl power.