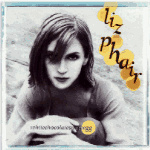 I remember seeing Liz Phair perform on The Tonight Show recently and feeling disappointed. It seemed like all the things that made her music so cool in the past (her brash lyrical sexuality and biting sense of humor) were gone. Granted, this was network TV, but still… Phair recently got married, had a baby, and from what I saw on TV that night, had settled firmly into motherhood. Not that there's anything wrong with that, of course, but it seemed like she lost her edge. I'm happy to report that nothing could be further from the truth.
On whitechocolatespaceegg, things are understandably a bit tamer than in the past. But while Phair may have matured a bit, she still has that feisty attitude. Musically, this is her most cohesive record to date. It's also her most varied, in terms of musical styles. She combines elements of pop and rock, with some of her best lyrics ever. The songs range from Beatlesque tunes (like the title track), to catchy pop ("Big Tall Man"), to solo acoustic tunes ("Perfect World"), to rockers with crunchy guitar riffs ("Only Son"), and all points in between.
Phair tries a few new things on this record too. "Uncle Alvarez" is unlike anything she's done before, and one of the best tracks on the CD. Other highlights include "Johnny Feelgood" and her take on success, "Shitloads of Money." On whitechocolatespaceegg, Phair shows she has matured, but without sacrificing her honesty and wit. If she can keep writing material like this, she's gonna be around for a long time.