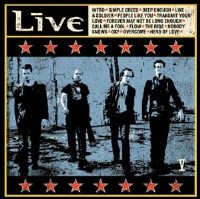 Although Live has been creating socially conscious music for nearly a decade, their latest album might be their most controversial and poignant effort to date. Live's new release, simply titled V, dropped in stores during a time when the world was craving music with a message in the wake of recent terrorist tragedies. While a broad range of songs will more than likely be adopted as anthems, Live has managed to innocently pull together an entire album of them.
Most, if not all of the tunes will strike a chord with listeners everywhere. From the chorus of the first single, "Simple Creed" that boasts such lyrics as, "Because we need each other, because we love each other," to the eerie foreshadowed subject matter in "People Like You," where lead vocalist Ed Kowalczyk references a dream he had where performers like Bono and Springsteen come together on stage.
In many of the lyrics, fans will find an odd mixture of comfort and coercion. "Transmit Your Love" talks about the outside world being a "goddamn shame," while "The Ride" speaks to America's state of affairs--"In the West we think that we're the best, we've shown the whole wide world money's all we care for now…we'll all light candles and take a seat for the ride."
Tracks that don't involve the band's soapbox stance like "Deep Enough," "Nobody Knows" and "Forever May Not Be Long Enough" echo former Live energy a la "Lakini's Juices." Diversification otherwise takes a back seat with the possible exception of the Todd Rundgren infused "Call Me A Fool."
If there is one track that is likely to shine above the rest it will probably be the bittersweet "Overcome," which can only be compared to Live's huge hit, "Lightning Crashes." Already being touted as a huge player in the midst of tragedy based playlists, "Overcome" is a haunting, yet uplifting tale that speaks to and about the downtrodden.
Perhaps only second in faith and religion based rock to an act like Creed, only time will tell if this album's timely reference will help or hinder Live's current events appeal.