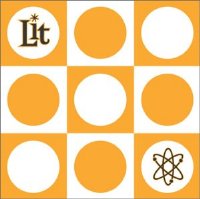 The boys of Lit became twenty-something heroes when their beer banter anthem, "My Own Worst Enemy" hit it big a few years back. A song that was hard to ignore, it's also one whose success is hard to top. The crew is out to give it the old college try though with their latest release, Atomic.
First the bad news. Those who are looking for another track that will match in style and enthusiasm Lit's truest hit, will unfortunately, have to keep looking. However, those who liked their last album, A Place in the Sun, will be glad to hear that the gang hasn't changed all that much, if at all. Atomic serves up more of the band's blend of frat rock angst, spiced with less than discrete sexual innuendos. The first single, "Lipstick and Bruises," advertises hair band guitar riffs and makes the song a questionable return to radio.
The rest of the album toys with Lit's brand of 'playpen rock.' "Addicted" and "She Comes" are both full of sexually charged double entendres along the lines of their lighter swaying track, "Miserable." On "Addicted," lead singer A. Jay Popoff croons, "I'm so addicted to you, and you're such a dick to me."
There are a few moments where the guys turn down the lava lamp, and turn up the 'romance' with "Happy In the Meantime" and "Slip." Then there's the clap your hands and swing your feet rock that Lit is most comfortable with, like "Sunny Weather," and "Everything's Cool." "Next Time Around" and "The Last Time Again" draw a comparison to old school Huey Lewis and the News. Surprising as that may seem, fans of both bands will undeniably note the odd evolution.
Followers of feel good alt rock with the good taste that fills you up and never weighs you down will be happiest with this easy to digest pop rock cocktail.