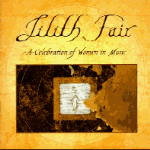 When Sarah McLachlan put together the 1997 Lilith Fair, no one had any idea of the successes it would have. They told her that people wouldn't pay to see a music festival of all women. The tour became the surprise hit of the summer, grossing more than any other event last year. Lilith Fair featured different artists in each city, with both established and emerging artists performing on multiple stages. If there's one thing the tour did, it raised awareness of women in music. Now, to raise awareness even further, McLachlan has put together a musically diverse collection of performances from the tour.
With well over two hours of music, you can relive the spirit of Lilith again and again. The highlights are numerous. Paula Cole's fiery rendition of "Mississippi" is my personal favorite of the 25 tracks. Cole reaches a burning intensity on the song that even outdoes the studio version. When you listen to the track, it's clear that her months of touring with Peter Gabriel rubbed off. Indigo Girls turn in a surprisingly rocking performance on "Scooter Boys." I had no idea they could rock out like this. Suzanne Vega's "Rock in This Pocket" is another standout track on the first disc, along with Joan Osborne's sexy blues-rocker, "Ladder."
The biggest surprise on the compilation is that Jewel, one of the tour's biggest draws, only shows up in collaboration with McLachlan and Indigo Girls on "Water is Wide." Emmylou Harris (who also shows up on the Lisa Loeb cut) turns in a great version of "Going Back to Harlan," from her latest album. Other highlights include tracks from Patty Griffin, and Shawn Colvin. Overall, the second disc is a bit more electric than the first, with rockers by Meredith Brooks, Tracy Bonham, and Wild Strawberries.
The Lilith Fair CD is the perfect souvenir for anyone who attended the shows last summer, as well as those who couldn't make it. Aside from the fine performances on the two CDs, a portion of the proceeds will go directly to R.A.I.N.N. (Rape Abuse and Incest National Network) and LifeBeat, a foundation searching for a cure and treatment for AIDS. Great music for two great causes.
TRACK LIST:
Disc 1 - Mississippi (Paula Cole) * Scooter Boys (Indigo Girls) * Sur Tes Pas (Autour de Lucie) * Been It (The Cardigans) * I Want (Dayna Manning) * Four Leaf Clover (Abra Moore) * Falling in Love (Lisa Loeb) * Loneliness of the Long Distance Runner (September 67) * El Payande (Lhasa) * Eternal Flame (Susanna Hoffs) * Rock in This Pocket (Suzanne Vega) * Ladder (Joan Osborne) * Building a Mystery (Sarah McLachlan) Disc 2 - Water is Wide (Indigo Girls / Jewel / Sarah McLachlan) * Going Back to Harlan (Emmylou Harris) * Wash My Hands (Meredith Brooks) * Cain (Patty Griffin) * I Don't Want to Think About It (Wild Strawberries) * What Do You Hear in These Sounds (Dar Williams) * Trouble (Shawn Colvin) * Lama Dorje Chang (Yungchen Lhamo) * The One (Tracy Bonham) * Charm (Wild Colonials) * Hold Me Jordan (Tara MacLean) * Periwinkle Sky (Victoria Williams)