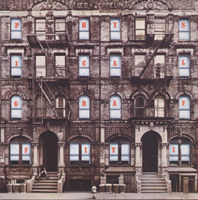 There are few bands in the annals of rock history that can hold a candle to Led Zeppelin. Over the course of their career, they created some of the greatest and best-known music of the era. To these ears, however, Physical Graffiti was always the band's reigning moment. With dramatic tracks like "Kashmir," "In the Light," and "Ten Years Gone," nothing before or after matched the sheer power and brilliance heard on this sprawling double album. It also showed the band's diversity; with songs like the wistful "Down by the Seaside" and the albums only top 40 single, "Trampled Under Foot."
The dynamic range and channel separation are outstanding throughout both albums. You'll notice it as soon as the needle settles into the groove for "Custard Pie." Bonzo's drumming propels the music along with more force and impact than ever before, especially on "In My Time of Dying." If you're going to crank this one up, make sure you remove any valuable and/or breakable items from the tops of your speakers first. Going from one extreme to the other, Page's solo acoustic number, "Bron-Y-Aur" has never sounded sweeter.
Classic Records has been slowly reissuing the band's catalog on vinyl, and the results have been stunning. The improvement in sound quality here isn't as dramatic as on Led Zeppelin IV, but it's considerably better than the recently remastered CD. The CDs don't sound bad, but they lack the low end heard on the original vinyl. That is no longer a problem. The lows are back with all the depth and clarity of the original release, and then some.
Physical Graffiti remains an essential part of any collection, and Classic did their usual excellent job on this landmark album. It looks and feels great (vinyl lovers will understand what I'm talking about here), and sounds even better.