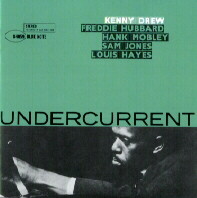 Undercurrent was the sixth release from Classic in their Blue Note vinyl series, and recently this 1960 date saw its debut on D.A.D. The entire quintet--Drew on piano, Freddie Hubbard on trumpet, Hank Mobley on tenor, Sam Jones on bass, and Louis Hayes on drums--are in fine form here. Long out of print in the US, Undercurrent is a fine set from Drew, and a great recording to boot. Both the vinyl pressing and the D.A.D. were outstanding. The only flaws I heard were some minor distortion on the drums on the vinyl. The sound on its digital counterpart was perfect.
All too often in a quintet setting, the piano gets buried in the mix. Not this time. It's right up front, where it should be. Drew's fleet-fingered solos are clear as a bell, especially on "Lion's Den" and "The Pot's On." Bass response on the D.A.D. was slightly better than the vinyl, although the difference was minimal. "Groovin' the Blues" is the lone track with a bass solo, and you can hear and feel each note clearly.
In terms of sonics, the album's high point is the solo piano intro on "Ballade." If you're looking for a single track to show off your system, this is it. You'll swear Kenny's in the same room with you when you hear this one. All in all, Undercurrent is another fine release from Classic--in whichever format you choose.