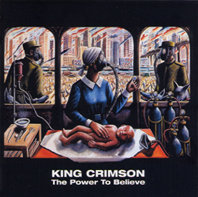 This first time I listened to this CD, I was convinced that the Crims had run out of ideas. Over half of the songs have been previously released on various CDs and EPs, and the earlier versions (at least upon first hearing the new ones) were better. I'm sitting here listening to the CD now for the fourth time, and I must admit, in the proper context (read: not comparing it to the earlier CDs), I'm enjoying the CD a lot more.
The title track appears in four places on the CD, in varying forms, beginning with the a cappella version. From there it bursts into "Level Five"--one of the many tracks on the CD that made its first appearance onstage during the 2001 tour, as well as the band's tour disc of the same name. In fact, the basic track for the song was recorded live--you can hear the applause at the end. Musically, the instrumental song bears a strong resemblance to "VROOOM" from the band's 1995 album, THRAK.
Up next is "Eyes Wide Open." An acoustic version of this one appeared on last year's Happy With What You Have to Be Happy With EP. It's nice to hear the 'non-acoustic' version. "ElektriK" is another instrumental that was played on the last tour. Aside from some additional electronic percussion, the song is nearly identical to the earlier versions.
"Facts of Life" is a throwaway vocal tune (one of the few songs with vocals on the disc), as is "Happy With…" The latter was bad enough on last year's EP. Why they chose to include again here is beyond me. "The Power to Believe II" and "Dangerous Curves" both made their debut on the Level Five tour. However, "TPTB II" has gone by other names in its previous incarnations--first "Cyriel" and then later, it became known as "Virtuous Circle." The only real difference now is that it has the TPTB vocals in a few places. Musically, it's basically the same as before.
The disc ends on a quiet note with "The Power to Believe IV: Coda"--a typical Fripp soundscape with the TPTB vocal floating over the top. All said, The Power to Believe isn't a great disc, but it's not bad either. Especially if you've seen the band on tour recently.