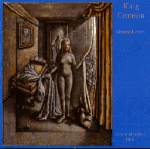 King Crimson has existed in many different lineups. Five, to be precise. The band on the new live double CD--Robert Fripp (guitar), Adrian Belew (guitar, drums, & lead vocals), Tony Levin (bass, Chapman stick, synth & vocals) & Bill Bruford (acoustic & electronic percussion)--is lineup #4. For a little over a year now, DGM has been releasing a series of live Crimson dates. Absent Lovers is the third in that series, taken from the final night of the 1984 tour in Montreal. Although the show concentrated mainly on recent material, the band also served up inspired renditions of "Red" and "Lark's Tongue in Aspic (Part Two)."
The concert begins with the ethereal intro of "Entry of the Crims." Each member of the band comes onstage individually, and then they plunge into the pulsating rhythms of "Larks (Part Three)." For me, "Matte Kudasai" has always ranked among the best things ever produced by this lineup, and this particular version is beautiful. "Waiting Man" features some amazing guitar interplay between the two guitarists. After the song ends, Belew comments, "Boy, that's the best we've done that in a long time." At this point in the tour, the band was tight as hell. For an example, check out the ending of "Frame by Frame." You'll see what I mean.
Like the others releases in the series, Fripp wrote excellent liner notes, with a great commentary on the ironies of live recording. Fans of this lineup will be thrilled with the commercial release of this concert. If you are not familiar with this era of the band, Absent Lovers is the closest thing to a 'greatest hits' album that you will find.