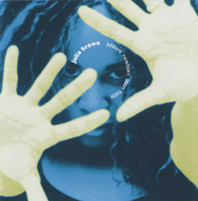 "I'm not Britney Spears, and I'm not out to be an R&B diva. I am determined to do something unique…." - Julia Brown
You know, we receive a lot of CDs from independent artists here at The Night Owl. Some of them are good; but more often than not, they just end up in the pile. One of the best ones we've heard lately is the compelling new disc by Julia Brown, entitled Jubilant Newborn Alien Haze. In her bio, she claims to have more musical influences than just about anyone I've ever seen. How about these for starters: Elvis Costello, Michael Penn, Roxy Music, Crowded House, Tori Amos, David Bowie, The Temptations, Aretha Franklin, Led Zeppelin, Jimi Hendrix, REM, hard-core rap, Duran Duran, The Monkees and Trisha Yearwood? It's hard to go wrong with a list of musical influences that diverse. Can you really hear all those influences in her music? Well, no--but you can hear a lot of them. The only other artists that immediately came to mind when I listened to this disc were Alanis Morissette (the quirkier side) and Hounds of Love-era Kate Bush--especially on the CD's first track, "Victims and Villains."
Brown (who wrote all the tunes on the CD) handles all the vocals, along with assorted keys, guitars and percussion. Christian Cassan plays everything else (except the fretless bass on one song) and produced the CD. Of the 10 songs on the CD, one of the best is "Invisible," an impassioned ballad that Brown says is about "needing someone the most when they're nowhere to be found." Powerful, yet never overbearing, her voice soars--especially on the choruses. "Miles From My Home" is a good pop song, with a cool guitar solo by Cassan. "Eternity" is perfect for those times when you want to hear something a little more relaxing. You know, like after sitting in traffic for what seems like hours on your way home from work, etc. The anthemic "We Can Have it All" is another highlight. Once again, the song features Brown's soaring vocals, this time with a Tori Amos-like edge to them. Closing with "Coffee in Your Teacup" and a short unlisted bonus track, called "Meet You In the Morning," the CD practically begs you to hit the play button again.
The best thing about this CD is that even with all the influences mentioned above, Brown still manages to come up with a sound all her own. That, in itself, is an achievement. On top of that, the songs stand up to repeated listens. If you'd like purchase a copy of Jubilant Newborn Alien Haze, point your browser to www.juliabrown.com for all the info. You'll be glad you did.