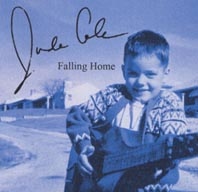 It's been five years since the last Jude Cole album; and in the music industry, that's a lifetime. I'd heard good things about Falling Home prior to its release, saying it's a return to form, etc. That's good, because his last album, the aptly titled I Don't Know Why I Act This Way, wasn't much to write home about. The two albums prior to that were so good, you couldn't help but wonder what went wrong along the way. There were a couple good songs on it, but that was about it. Overall, it was a disappointment.
Unfortunately, Falling Home doesn't fare much better. The new CD has its moments--"I Won't Bleed" is the best track on the disc, and "Inhale" isn't bad--but there's isn't anything that compares to the material on his excellent second album, A View From Third Street. If you're a newbie, that's the album to get (and the only other one that still in print). Once you get a copy of that, then look for his Start the Car CD. The title track is a killer and features Sass Jordan (whatever happened to her anyway?) on background vocals.
There's no denying that fact that Cole is talented (he played just about all the instruments on the CD), but his last two CDs find him firmly rooted in 'adult-comtemporary' mode right now. Unless you're a Jude Cole completist, skip this one and check out the other CDs mentioned above.