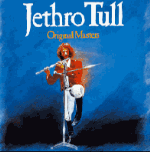 For years, Jethro Tull's Original Masters disc was only available here in the US as a high-priced import. Personally, I always liked this album better than the band's 'M.U.' collection. It covered more material, and overall, the songs were better. Chrysalis eventually released the album here in the states a few years later, but the folks at DCC did it right. The sound quality is stunning, and three of the songs are longer than they were on the original disc. Let's get to the specifics, shall we?
Aside from "Aqualung," the entire CD sounds fabulous. The bass is deep and full, and the highs are crisp and clear. "Aqualung" seems a bit compressed when compared to the other tracks. The definition on "Living in the Past" is superb. It's easy to distinguish each instrument from the next. "Locomotive Breath" has always been a great song to show off your stereo system, and it doesn't disappoint here either. The first tracks that sound noticeably better are "Skating Away on the Thin Ice of the New Day" (which is also the first of the 3 songs with longer running times) and "Bungle in the Jungle." These two tracks are full of little nuances going on in the background, and you can hear every one with ease.
To me, the best thing about this gold CD has to be "Thick as a Brick." Instead of the 3:00 version I was expecting, DCC used the entire first side of the album (adding almost 19 minutes to the running time on the CD)! The third song to appear in longer form is "Minstrel in the Gallery." Now here's a song that's made to played loud, and it sounds better than ever. Crank it up and enjoy. Whether you're a newbie looking for an introduction to the band, or a seasoned fan who already has all the albums; Original Masters is a great album and now thanks to DCC, it's even better.
This CD is now available in record stores and finer high end stores everywhere.