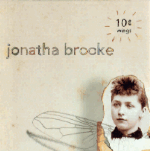 Jonatha Brooke is probably best known among singer/songwriter fans as part of her former group, The Story. 10¢ Wings is her solo debut and the first release for MCA subsidiary, Refuge Records. Most of the CD's largely autobiographical songs were written over a 10 day period, during a raging nor'easter. One of the initial things you notice are the unusual chord progressions that Brooke bases her songs upon. The first time you hear them, they don't sound like they work. But after a few listens, you find the melodies firmly planted in your mind.
"Crumbs" is a perfect example. The first time I heard this song on the radio, it caught my ear because the chords just didn't sound right. Now that I've had a chance to hear the song several times, it's definitely one of the many highlights here. Same with tracks like "Glass Half Empty" (dedicated to Brooke's friend, Kevin Gilbert, who died unexpectedly in 1996) and "Genius or a Fool." Other standout tracks include "Last Innocent Year" and "Secrets and Lies."
10¢ Wings is a captivating new CD that is sure to appeal to fans, as well as those who haven't yet heard of her. If you like artists like Sarah McLachlan, recent Emmylou Harris, or any of the other musicians who appeared on last summer's highly successful Lilith Fair tour, you'll probably enjoy this disc.