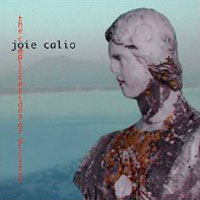 The Complications of Glitter is the first solo disc from dada bassist/vocalist, Joie Calio. Fresh off a successful solo tour of the US (featuring Joie on acoustic guitar and the album's producer Gregory A. Haldan on electric), Calio has taken on a decidedly different approach with Glitter. The alterna-rock sound most often associated with dada has been tossed aside in favor of a jangly pop/folk style.
All of the songs on Glitter were penned by Calio (who also plays most of the instruments on the disc), with the exception of his laid-back cover of System of a Down's "Toxicity," which was debuted in the acoustic section of dada's 2003 fall tour. The best tracks on the album are the leadoff song, "Similar to Sugar Pill," "Broke Jennifer's Window" and the last song on the disc, "About Monkeys and God." The rest of the disc isn't bad, but there's nothing spectacular here either.
dada fans are sure to want a copy of Glitter, but the rest of the CD buying public will probably be more receptive to the upcoming dada release--How to Be Found.