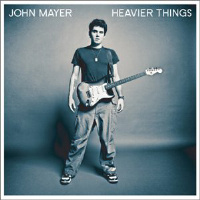 When the likes of Billy Joel, James Taylor and Phil Collins started slowing down, the art of songwriting seemed to slow down along with them. Suddenly the singer/songwriter was a dying breed, no longer heard from, yet definitely not forgotten.
Then in 2001, John Mayer did the impossible or perhaps the inevitable, bringing the singer/songwriter back to mainstream pop play lists. Not only did he succeed at breathing new life into a dying genre, he also did this at the wise old age of twenty-two by spawning four successful singles.
Now a little over two years later, Mayer has grown 'older and wiser' and perhaps, even more prolific, releasing the aptly titled Heavier Things. The follow up to his smash debut, Room for Squares, Heavier Things proves Mayer deserves to wear the crown as the thinking man's pop music prince.
It is only fitting that the introspective songwriter is aware of the weight placed on his shoulders. Relatively unknown artists like the criminally underrated Jude Cole tried before him, paving the way for a new generation of listeners, and artists such as Mayer. Since his debut, the likes of other singer/songwriters in the same vein have suddenly emerged (Jason Mraz, Josh Kelley) as well. Now the singer/songwriter combination seems to sit comfortably along side artists like Eminem, Britney Spears and J Lo.
The first single off Heavier Things is the equally weighty "Bigger Than My Body". In fact, much of the album reflects a heavier mood, a growth of sorts, as Mayer acknowledges he still has a lot of growing to do, as a songwriter and as a twenty-something. From the catchy hum of "Clarity" to the somber disillusionment of "Something's Missing," Mayer touches upon true emotions so many feel, yet somehow cannot describe.
The playfully true lyrics on "New Deep" ("Is there a God? Why is he waiting? Don't you think of it odd if he knows my address?") also showcase Mayer's sly sense of humor. Diversity is also on display as heard on the bluesy feel of the simple message of "Come Back to Bed" and the eighties energy felt on Mayer's true testament "Home Life."
With Heavier Things, the message is clear: Mayer is not about wasting your time. Every song has a purpose, a message and a meaning. When Mayer writes, you're moved. When he sings, you listen. And when you put the two together, it's inspired.