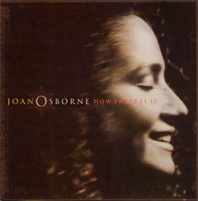 Joan Osborne's last CD, Righteous Love was quite the unexpected pleasure. It had been 5 years since she released Relish (an eternity in the music biz), and the CD found her exploring a number of new musical directions. But when an artist releases a disc full of cover songs, I tend to be a bit skeptical. Did they have a case of writer's block? I've always been a big fan of covers; but all too often, they pale in comparison to the original versions. Naturally, there are exceptions to that rule, and this CD is definitely one of them.
The thing that sets this disc apart from other cover or tribute CDs is the way Osborne captures the essence of these songs and transforms them into something all her own. Want some examples? Check out the title track. If you've only heard the boring James Taylor version, you'll definitely want to give this one a listen. Joan's take on the Edwin Starr classic, "War" is drastically different. Presented at a dirge-like pace, it underscores the message behind the song. "Bold as Love" and "The Weight" are radically changed as well.
Not all the songs are different from what you're expecting though. Some of them are just plain cool. "Smiling Faces Sometimes" with Black Moses himself, Isaac Hayes, fits into that category, as does "Why Can't We Live Together" and the rocking version of "Only You Know and I Know."
These songs are the perfect showcase for Osborne. How Sweet it Is is one of those CDs that you enjoy the first time you hear it. My only complaint is that is doesn't include her smoldering rendition of "Son of a Preacher Man" (a staple of her live shows). Aside from that, this is a great disc. The righteous one is back.