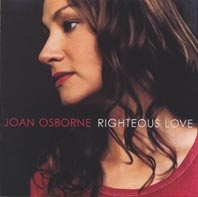 It's been five years since Joan Osborne's last CD, the multi-platinum Relish--not by choice though. "I was trying to make a record I liked, working with different producers…and I guess the label got tired of waiting," said Osborne in a recent interview. Without a record label, she kept plugging away at it and was picked up by Interscope. There's nothing as lyrically striking as "One of Us" on her new disc, but Righteous Love is a definite step forward and Joan's voice is sounding better than ever. The interesting thing this time out is the assortment of people she's working with: Peter Gabriel protégé Joseph Arthur, ex-Hooters Rick Chertoff and Rob Hyman, producer Mitchell Froom, Los Lobos sax man Steve Berlin… The list goes on and on.
Musically, the disc is all over the place. "Running Out of Time" kicks off the CD with an awesome groove. The title track has a classic 60's pop melody, and is the perfect showcase for Osborne's vocal abilities. She pulls it off with ease, sounding almost like Ronnie Spector. She's not quite as successful with her cover of Gary Wright's "Love is Alive" though, turning it into a wailing funk tune. "Baby Love" is a cool, funky number with awesome sax lines by Steve Berlin. She gets the bluesy rock thing going on "Hurricane," and then winds things up with a gorgeous cover of Bob Dylan's "Make You Feel My Love."
Righteous Love is one of those albums that grow on you the more you listen to it. Even with the wide variety of musical styles, it's a cohesive (if eclectic) collection of tunes that grab your attention. Hopefully, we won't have to wait another five years for her next record.