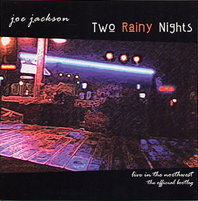 The last Joe Jackson album, Night and Day II was met with a lukewarm response. The songs had potential, but didn't really come alive in the studio. With Jackson's 'official bootleg,' Two Rainy Nights, that all changes. One listen to this CD and it becomes readily apparent that these songs need to be performed in a live setting. There are several older tunes here as well, but it's the new songs that really stand out.
Jackson's piano playing is superb (as always) throughout the set, but Allison Cornell (who contributes violin, lead and background vocals, and additional keyboards) almost steals the show. One of the biggest highlights on the disc is "Glamour and Pain," where Cornell takes over the lead vocals. The way her voice soars throughout the song, you'll swear it was written just for her.
Two Rainy Nights was professionally recorded in April 2001 at venues in Seattle and Portland, and is available only through joejackson.com. There isn't much in the way of liner notes, but it's the music that matters, right? If you were lucky enough to catch Jackson on his latest tour, this is a great souvenir to help you relive the experience. For those who didn't get the chance to catch one of the shows on the tour, this will give you a glimpse of what you missed.